Description
Further discounts may apply for volume orders of 12 or more D700+s!
Call us NOW on 1300 774 267 for a FREE QUOTE
The Brightgreen D700+ Curve LED downlight is a stylish, efficient and affordable LED lighting alternative to 50 watt halogen downlights that give you all the brightness of a premium 50 watt halogen with only 10.5 watts, just one-fifth of the power.
D700+ are Brightgreen's Best Seller and with a Color Rendering Index of 97 and Tru-Colour Technology, give them a try and you will see why.
The D700+ is a complete LED downlight kit which includes a LED Bulb, Dimmable Driver and Power Cord (i.e. transformer) and are available in either White or Black.
A truly sensational Downlight on its own, or paired with a range of Fascia Styles and Colours and filters to create your own style and ambience, the choice is yours.
Fascias an Filters sold separately.
The D700+ features: 
·      A deeply recessed lens for low-glare, ambient interiors, creates a sleek and stylish look in your room
·      A 55° directional beam for more defined lighting schemes and accents
·      Tru-Colour technology – making interiors look more vibrant and lifelike with advanced colour rendering
.      Color Rendering Index (CRI): 97
·      3000K warm white colour temperature and 4000k neutral white
·      An airtight universal gimbal, allowing for 30° tilting in all directions
·      An IC-4 rating, allowing your D700+ to be covered and abutted by insulation
·      An amazing 7-year luminaire warranty
·      A trimless design, providing the option for a pared-back, trimless installation
·      Interchangeable facias are available in black, silver, white and a range of other colours and styles  (fascias can also be painted to complement  other interior details in the home)
You will be amazed by not only the quality of the light and workmanship, but by how good they look and feel in your home or business.
Installation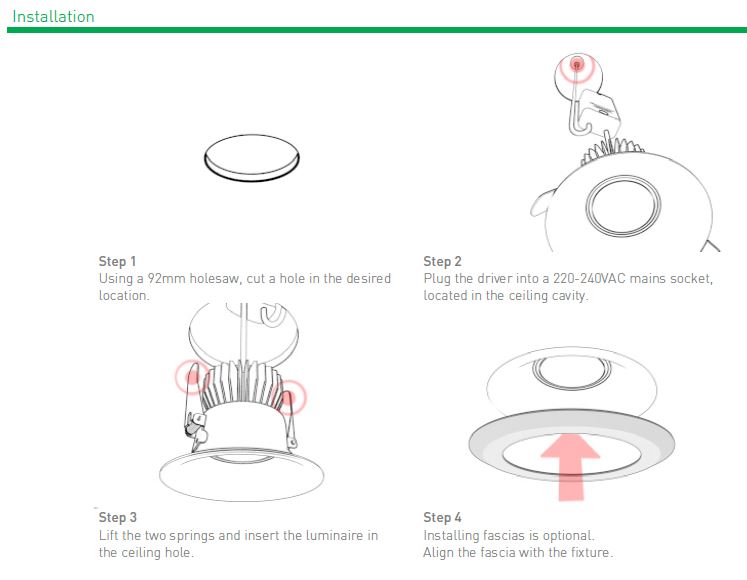 Product Dimensions